This is a good way to get shot.  An amateur filmmaker who donned a hairy Bigfoot costume and scared hikers on New Hampshire's Mount Monadnock is now suing the state for not allowing him back on the mountain without a permit. Read more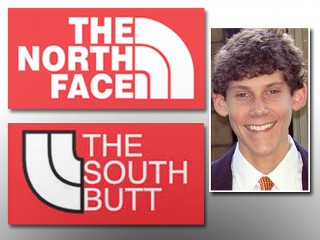 ABC News is reporting that a teenage kid in Missouri is ignoring a cease and desist letter sent by The North Face regarding possible trademark infringement by his company, The South Butt. The 18-year-old college student, Jimmy Winkelmann, said he started his apparel company after making fun of other kids at his private high school who wore North Face jackets to fit in.
Winkelmann's attorney Albert Watkins, who plays squash with his client's father and traded his services for a really good bottle of burgundy, responded to LaVine with a Sept. 10 letter in which he not only declined the company's request but told it that The South Butt should be considered flattery.
The attorney also gave The North Face the option of buying The South Butt company for $1 million, but that opportunity was retracted because of The North Face's lack of action. It was wise of TNF to pass on the million-dollar South Butt offer. I'd sell them my own 'South But' company for only $750k.