Anyone can purchase a pre-made survival kit off the shelf. The problem with this approach is that the survival kit you select may not be what is needed for your particular situation and  may contain junk that does not even work.
For persons who travel in the wilderness on a regular basis, taking a survival kit is like putting on your pants. It goes where you go. Anyone on this planet over the age of 5 knows the unexpected can happen without a moments notice.This is especially true in the wilderness. Help or rescue may not be available so you need to be able to take care of yourself. Read more
If you are going to store food, make sure that the food you store is adequate for the need you and your family anticipate. This may not be as easy as to achieve as many people think, because the facts are that most people make serious errors when storing food—errors that will come back to haunt them when the food they've stored is the only thing that stands between them and their empty, dissatisfied, bellies. Read more
Recipe One: Dough Balls
Making dough ball catfish bait is fairly easy. Start with a base such as peanut butter, cookie dough or bread. Next, place the base you picked out in a bucket and then mix it with something to give it a scent such as chicken livers, rotten cheese or garlic powder. It may take a few times of combining ingredients together before you find the right mixture that holds together and draws the catfish but you get the general idea. Read more
The Hiking Staff is a pole which serves as the extension of your body. The trail is not always smooth and flat. There may be steep areas or streams that you need to cross. A Staff  will be able to provide the extra support that you need.  Read more
Hiking can be tough and physically demanding. Here are some simple rules to follow when taking children or persons new to hiking out for the first few times. Read more
Keeping your cloths clean will make them last longer and more serviceable, it will also cut down on critters and bugs thinking you are a dead carcass.  In the field there are three easy ways to get this done.  Read more
I will not leave the house with out extra ammo. One of the best ways to carry it is the Quick Strips from Tuff Products.  Unlike the Speed Strip that only came in 38/357.  Read more
NRA has just released the latest edition of its comprehensive Guide to the Interstate Transportation of Firearms.
By Steven L. Doran
I was asked in an email if shaving in the field was necessary?  I have been back and forth about shaving in the field but now do it regularly. I will   give you the pros and cons as I see them. Then you decide.  But either way you will learn how to get a great shave like your Dad should have taught you.   Read more
I have never been a big fish eater unless I was cooking it right from the lake or river,  or for my friend Scott, who we all believe will turn into Mr. Limpet eventually he eats so much (For you young readers Mr. Limpet was a comedy in the 60′s about a man who turned into a fish)  but it has never been something that I ate on a regular basis. Read more
When you are placed in a survival situation, one of the best things to have with you is a way to make soups and stews. Why? Because food is scarce. You can stretch any meal including ones you make at home by incorporating the ingredients into a soup or stew. Read more
Next to a compass a  typographical map is your most important land navigation tool when going into unknown or low viability territory. If you ever find yourself without a map in the unknown wilderness, one of your first priorities is simple to make your own map. That is why we recommend you have a pencil and small note book with you as part of your kit, for this and other things. Read more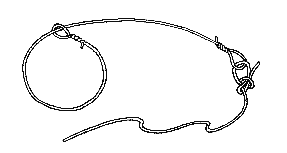 Setting snares, live traps , dead falls, gill nets, fish traps and trout lines will assist you in gathering food to help you survive. Animals follow the path of least resistance just like humans. look for these trails, entrances and exits to dens they are excellent places to set snares. Animal tracks offer information pertaining to the type of animal, its size and the direction it was headed. Following these tracks will often lead to water-holes  for water and feeding grounds where you may place other traps or snares. Placing bait on a tree limb, and a snare between the tree and the bait will often produce results. But you have to set several if you want to catch a meal.  Nothing is ever 100% so you have to increase your odds. Read more
One of the ways to lessen what you have to put in a pack or bag,  is by dividing up items in to strategic areas of your body. Replace your shoe or boot laces with 550 Parachute cord. This will give you plenty of cordage should you run into and emergency where you need it. Do not worry about going without boot laces. 550 Cord is 9 cords in one.  You can take what you need then, replace the main part of the cord.  It comes in many different colors I am sure you can find one to match your shoes.
One of the most useful cleaning tools is a dental pick, and they are cheep. Read more
When meat is scarce on the trail, rattlesnake is used frequently in chilies. It is the only good place for the rattler to be. Read more
In order to make sourdough, you'll need some sourdough starter. Some people claim their starter goes back a 100 years or more.
2 cups of warm potato water
2 cups of flour
1 tablespoon sugar
Boil a few cut up medium sized potatoes in 3 cups of water until the potatoes are tender. Measure two cups of the potato water, and mix it with flour and sugar into a paste. Set the mixture in a warm place to rise. It should double its original size after it's done rising.
Part of the problem most people have in the field  is staying organized and keeping their gear easily accessible. This can mean the difference between success and failure.  Read more
By Steven L. Doran
Strength and brain power are two attributes I definitely need on a hike especially when walking uphill on switchbacks in dangerous terrain as part of my daily work out.  When outside doing anything your body provides the power.  You need to put the right food in your body to make it. Read more